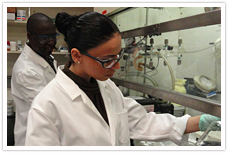 MAKScientific is a privately held Boston-based company founded in 2004 on the basis of research by Professor Alexandros Makriyannis in the chemistry and biochemistry of the cannabinoid system. The Company is a leader in cannabinergic compound development with the ability to address major unmet medical needs for selected diseases with a clear competitive advantage over present therapies. Our mission is the discovery, development and commercialization of novel therapeutics that modulate the endocannabinoid system: a key regulator of homeostasis.
MAKScientific has extensive expertise in the endocannainoid biochemical pathways and has validated therapeutic targets. These include two known GPCRs (CB1 and CB2) as well as enzymes that are in the modulation of this biochemical system including fatty acid amide hydrolase (FAAH), N-acylethanolamine-hydrolyzing amidase (NAAA), diacylglycerol lipase (DGL), and monoacylglyceral lipase (MGL) as well as the cannabinoid transporter system. The Company has proficiency in medicinal chemistry and drug design and has substantial drug development assets that include a large library of carefully designed druggable cannabinergic compounds as well as advanced preclinical drug candidates for treating metabolic disorders, chronic liver disease, pain, neurodegenerative and inflammatory diseases.

OUR VISION
MAKScientific will be a leading therapeutic company that brings new and innovative drugs to the market place for human diseases that can be modulated by the endocannabinoid system.

BOARD OF DIRECTORS
Nassos Michas, Chairman. CEO, Stonington Partners, LLC, former President and CEO Weiss Peck and Greer, former Chairman Merrill Lynch Banks
Nicholas Bacopoulos, Ph.D., President & CEO Mersana Therapeutics, formerly President & CEO, Aton Pharmaceuticals, former President/CSO OSI Pharmaceuticals
Harry H. Penner, Jr., J.D., Chairman & CEO Nascent Bioscience, formerly President, CEO and Vice Chairman, Marinus Pharmaceuticals, former President CEO & Vice Chair, Neurogen
Alex Makriyannis, Ph.D., Behrakis Professor of Pharmaceutical Biotechnology, Director of the Center for Drug Discovery, Northeastern University, formerly Distinguished Professor of Medicinal Chemistry, Pharmacology, Molecular and Cell Biology, University of Connecticut, and Director, Center for Drug Discovery, University of Connecticut.

Scientific Advisory Board
Alex Makriyannis, Ph.D., details above
Frank Porreca, Ph.D., Professor of Pharmacology, Department of Pharmacology, University of Arizona
Philip Malan, M.D., Ph.D., Professor of Anesthesiology and Pharmacology, Department of Medicine, University of Arizona

Founder's Accomplishments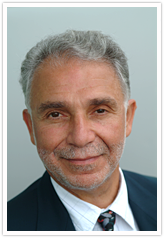 Professor Makriyannis is among the first to define the biochemical pathways of endocannabinoids through the development of highly selective ligands for endocannabinoid targets. Some of the highlights are:
1994 Early cannabinoid receptor antagonists (AM251)
1995 First CB2 receptor antagonist (AM630)
1996 First to develop ametabotically stable endocannabinoid (AM356)
1996 First fatty acid amide hydrolase (FAAH) inhibitors (AM374) as medications for pain and neurodegenerative diseases
1997 First discovery of anandamide transporter system
1997 First anandamide reuptake inhibitor
1998 First in vivo imaging agent for the CB1 receptor
1999 First highly selective CB2 agonists
2001 First CB2 candidates for neuropathic pain
2004 First CB1 neutral antagonists
2005 Developed early potent and selective FAAH inhibitors
2009 Early selective inhibitors for MGL
2010 First CB1 peripherally acting neutral antagonist with reduced side effects (AM6545) 
2010 Developed late generation FAAH inhibitors for treatment of neurodegenerative disorders

2011 Developed selective and druggable dual FAAH/MGL inhibitors 


back to top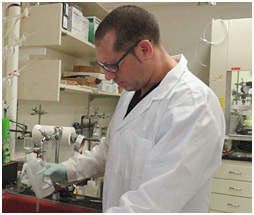 OUR VISION
BOARD OF DIRECTORS
SCIENTIFIC ADVISORY BOARD
FOUNDERS' ACCOMPLISHMENTS

About the Endocannabinoid System
Cannabis has been recognized to have therapeutic properties since ancient times. It has been used as an analgesic, an appetite enhancer and in combating nausea and vomiting in cancer chemotherapy. However, it has not been fully exploited as a therapeutic agent because of its undesirable mood altering effects. More recent discoveries have shown that the human body produces endogenous cannabinoids (endocannabinoids anandamide and 2-arachidonylglycerol), a family of neurotransmitters and neuromodulators. These natural substances participate in a number of physiological processes by interacting with two known cannabinoid receptors (CB1 and CB2) as well a a group of enzymes (FAAH and MGL) and a transporter system all of which have served  as useful targets for drug discovery. 

Center For Drug Discovery (CDD), Northeastern University
MAKScientific collaborates with the CDD on several drug discovery projects. The CDD is dedicated to the discovery of novel medications and the development of approaches and technologies aimed at improving the discovery of new therapeutic drugs. The CDD houses over 60 graduate, post-doctoral, and faculty researchers with well-equipped, state-of-the-art laboratories to conduct research in Molecular Biology, Cell Biology, Tissue culture, Biochemistry, Behavioral studies, Proteomics, Metabolomics, In vitro characterization, In vivo profiling, Chemical synthesis, Biophysics, Radiochemistry, and Imaging. See www.cdd.neu.edu for more information.

Focus on lead CB1 Antagonist: AM6545
CB1 receptor antagonists are known to be effective agents for treating metabolic disorders and obesity.  In human trials, CB1 antagonists demonstrated effective weight reduction, metabolic risk factor improvement and reduced insulin resistance. In additional studies in type II diabetes patients, Sanofi's drug Acomplia® reduced blood glucose, lowered triglycerides and raised HDL (good cholesterol) levels. It was also effective in combating fatty liver conditions and liver fibrosis. This compound was initially approved but later withdrawn because of neurological side effects. MAKScientific has developed novel, orally bioavailable receptor antagonists with improved pharmacological profiles. The compounds are highly selective for the CB1 receptor and exhibit a neutral antagonist profile unlike many drug candidates developed by the pharmaceutical industry. Our lead compound is a novel orally bioavailable, peripherally restricted CB1 neutral antagonist (AM6545) that has a favorable pharmacological and side-effect profile. It is currently in advanced preclinical testing for treating chronic liver disease and metabolic disorders.